8 DAYS OF HORSE RIDING TOUR
Best features of this tour
This tour offers you the most convenient horse riding experience in 8 days.
The road transfer is not tiring. It only takes around 1 to 2 hours.
The destination is amazingly beautiful and leads you to the different landscapes even it is located not far from Ulaanbaatar.
Mongolia welcomes you with its grassy fields with nomadic families and herds of horses galloping freely!
Tour itinerary
Don't have plenty of time to travel for weeks? No problem at all!
We offer you the Express 8 Days of Horse Riding Tour! We have carefully planned the tour to make sure
you get the best horse riding experience, 5 and a half day on horseback out of 8 days!
It will only take up to 2 hours from Ulaanbaatar to meet your equestrian guides and horses ready for the adventure! Accommodations of mostly camping under the open sky can be the most amazing way to experience Mongolia.
Day 1: Ulaanbaatar
Arrival in Mongolia.
Your English speaking translator picks you up at Chinggis Khan Airport.
We travel to the destination and arrive at the camp.
Lunch at the camp.
Dinner and stay overnight at the yurt camp (single beds, 4 to 5 persons per yurt, showers in a separate building).
Day 2 to 6: Journey on a horseback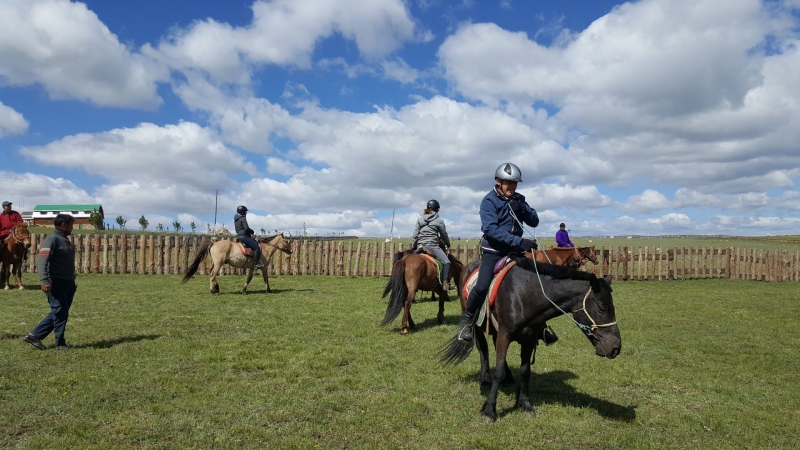 After breakfast, we start our adventure on a horseback!
Within these 5 days, we will continue our journey on horseback which will lead us to beautiful landscapes.
You will be amazed how tough and strong the Mongolian horses are, even they are bit smaller than European breeds. This beautiful creature is respected in Mongolia and you will see the reason when you meet one.
You will roam through widely different landscapes covering valleys, forest mountains, hills and steppes with your guide team who will be helping you during the entire trip.
Your translator and the equestrian guides will explain the tradition as you enjoy your nomadic experience.
The picnic lunch and everything else will be brought by our support vehicles, not carried on horses so that you can ride more comfortably.
Dinners and nights in tents.
We will always camp in different sets of the environment to enjoy nature to the fullest.
Day 7: Half day horse riding, departure to Ulaanbaatar
We will still ride half a day before ending our trip.
Picnic lunch.
Transfer to Ulaanbaatar.
You'll be offered to go shopping with a guide for the rest of the afternoon.
In the evening, you will attend Mongolian traditional shows which cover traditional dances, music, songs.
We don't include dinner to leave you a wide range of choices of Ulaanbaatar cuisine.
Night at a hotel (2* – twin or triple room).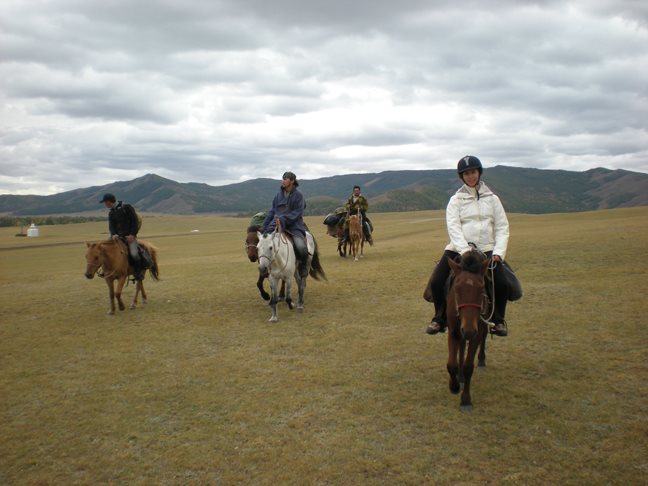 Day 8 – Ulaanbaatar
Transfer to the airport after breakfast.
ADDITIONAL
SMALL GROUP SUPPLEMENT
Groups of 2 or 3 : + 250 € / pers.
A supplement is refunded for all travelers after the 4th traveler is booked.
SINGLE ROOM
+ 100 € / pers. (2 nights in Ulaanbaatar only). This single room supplement applies if you want a single room in Ulaanbaatar.
PRACTICAL INFORMATION
Meeting point: Chinggis Khaan Airport, Ulaanbaatar.
Language: English, French
Group size: 3-10 persons.
ACCOMMODATION
In tents: 5 nights
In a yurt camp: 1 nights
In a 2* hotel in Ulaanbaatar: 1 nights
INCLUDED
✔ Transfers airport / hotel / airport
✔ English or French speaking guide
✔ 1 night in 3* hotel in Ulan Bator, breakfast included
✔ Journeys in Japanese 4WD jeep or Russian 4x4 UAZ + driver
✔ Petrol
✔ All breakfast, lunch, and dinner during the tour
✔ Cook for the groups > 5 persons
✔ Equipment for meals (mess tent, camping tables and chairs) and nights (tent, ground mattress), sanitary tent
✔ Tour and visits
✔ Horse riding
✔ Nomadic equestrian guides
✔ Entrance fees for parks and museums indicated in the program
✔ Traditional show
NOT INCLUDED
X International flights
X Visa (if necessary)
X Travel insurance
X Repatriation insurance
X Drinks /alcohols, water, etc./
X Meals in Ulan Bator
X Phone calls
X Any excursion that is not indicated in the program
TRIP CALENDAR
Choose your departure & Join now
Tour name

code

start

end

day

status

lang-cal

Price
8 DAYS OF HORSE RIDING TOUR

XP110623

11/06/2023

18/06/2023

8 Days

Bookings open

FR/ENG

from

€

1320

Book Now
8 DAYS OF HORSE RIDING TOUR

XP250623

25/06/2023

02/07/2023

8 Days

Confirmed + 8 seats left

FR

from

€

1320

Book Now
8 DAYS OF HORSE RIDING TOUR

XP090723

09/07/2023

16/07/2023

8 Days

Bookings open

FR/ENG

from

€

1320

Book Now
8 DAYS OF HORSE RIDING TOUR

XP230723

23/07/2023

30/07/2023

8 Days

Bookings open

FR/ENG

from

€

1320

Book Now
8 DAYS OF HORSE RIDING TOUR

XP060823

06/08/2023

13/08/2023

8 Days

Bookings open

FR/ENG

from

€

1320

Book Now
8 DAYS OF HORSE RIDING TOUR

XP200823

20/08/2023

27/08/2023

8 Days

Bookings open

FR/ENG

from

€

1320

Book Now
8 DAYS OF HORSE RIDING TOUR

XP030923

03/09/2023

10/09/2023

8 Days

Bookings open

FR/ENG

from

€

1320

Book Now
Let us create your Dream Holiday
Ready to experience in Mongolia at its best? We take the planning off you and hand you the keys to Mongolia. Drop us a line and we'll get back to you with expert, free, input within 24 business hours.
From our gallery
Come travel with us to experience beautiful Mongolia on horseback, be a part of nomad family and their culture as you enjoy your trip. Your adventure is waiting for you out there in the wild nature of Mongolia.