Best features of this tour
2 days of an adventurous trip to Naiman Nuur Park with pack yak is exclusively offered only by this tour.
3 nights with nomadic families is the best way to discover their daily life.
We worked hard on our saddles to give you maximum possible comfort as well as suit the Mongolian horse.
Orkhon Valley is registered as a World Heritage Site by UNESCO.
Tour itinerary
Roaming through the Orkhon Valley on horseback might be the most beautiful thing you'll ever experience!
Naiman Nuur trip has its unique way to attract people. This adventure never ceases to amaze even the locals!

This tour will lead you to the remote sites deep into the wildland letting you see the beauty of the land and support vehicles will accompany you to assure your comfort at the same time.

You will discover Mongolian heartland teaming with our equestrian guides and translators!
Day 1: Ulaanbaatar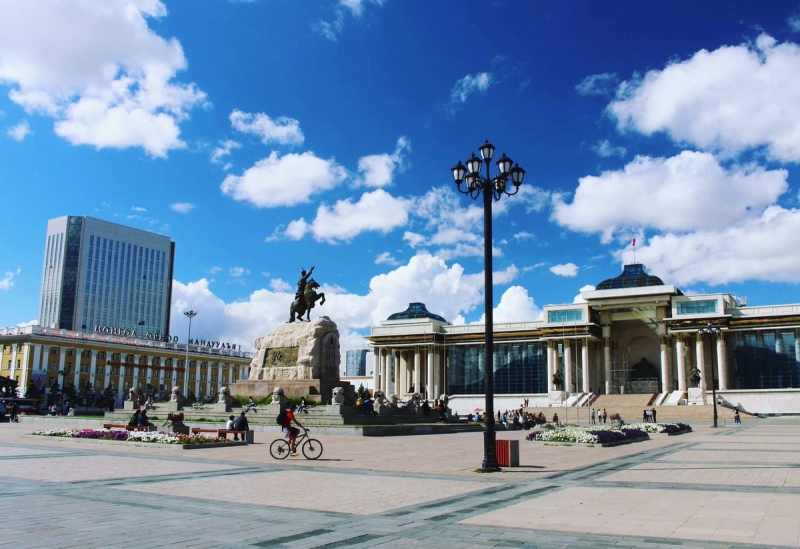 Arrival in Mongolia.

Your English speaking translator picks you up at Chinggis Khan Airport and takes you to your hotel.
Your guide is waiting for you at the hotel front desk and will have lunch.
We will visit Gandantegchinlin Monastery and the National Museum of Mongolian History.
Dinner (not included) and night at a hotel (2* – twin or triple room).
Day2: Ulaanbaatar – Orkhon Valley
Breakfast and drive to nomad family in Orkhon Valley.
We will be starting our trip early because we will spend 8 to 9 hours driving.
Arrival in the nomad family in the evening and this will probably be your first time to experience the nomadic life.
Dinner and stay overnight in the separate yurt of a nomadic family.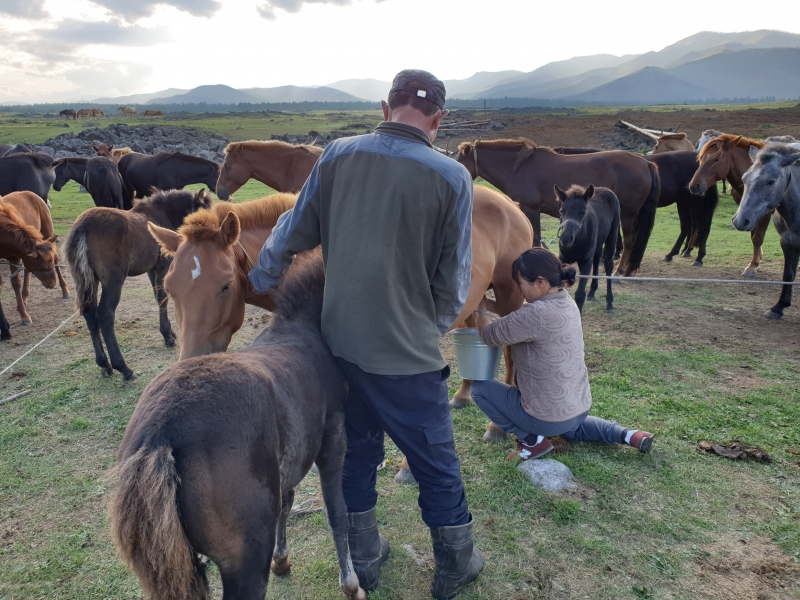 Day3: Orkhon Valley – Naiman Nuur Park
Breakfast and we start our first day adventure on horseback heading to Naiman Nuur Park.
We roam through Orkhon Valley on horseback.
Ancient lava flow marks colliding with Orkhon River makes the entire valley astonishingly beautiful. And it says all about the volcanic leaks and eruptions which changed the valley eons ago.

Picnic lunch en route. The picnic lunch and everything else will be brought by our support vehicles, not carried on horses so that you can ride more comfortably.

We set up our camp near the Naiman Nuur Park entrance after the ride. Our yak guides will join us here. Dinner and stay overnight.
Day4: Horseback adventure in Naiman Nuur Park (with pack yaks)
From this day, we change our pace on a different level depending on the change of the landscapes: wide open spaces to wild and remote landscapes. Welcome to The Naiman Nuur Park!
This is a place where no vehicles can reach, thus we load the equipment and your personal items on pack yaks.
We pack everything and start our trip to the steep mountains.
We arrive at yak breeder family and stay there for 2 nights in separate yurts (4-5 persons per yurt)
Lunch and dinner with the family.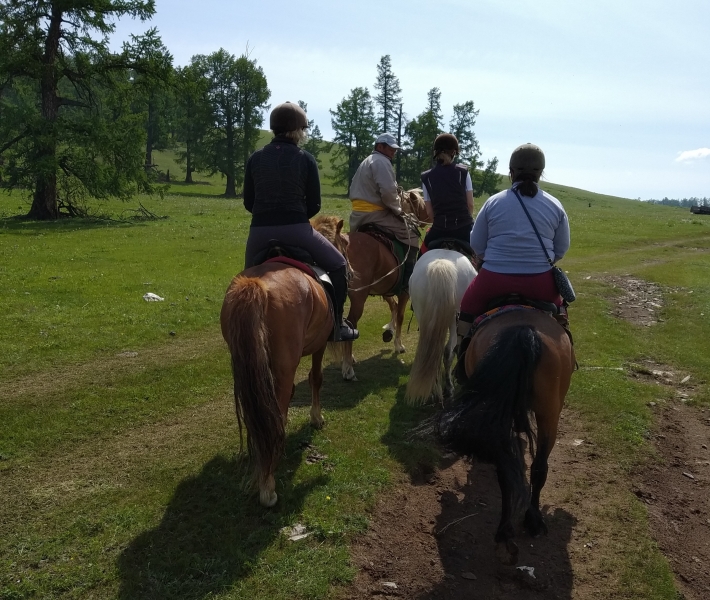 Day5: Horseback ride in Naiman Nuur Park
Breakfast
This is the day we ride through beautiful forest mountains heading to the lakes of Naiman Nuur Park.
Picnic lunch in the Park.
Dinner and stay overnight in the yurt.
Day6: Leaving the Naiman Nuur Park to Orkhon Valley with pack yaks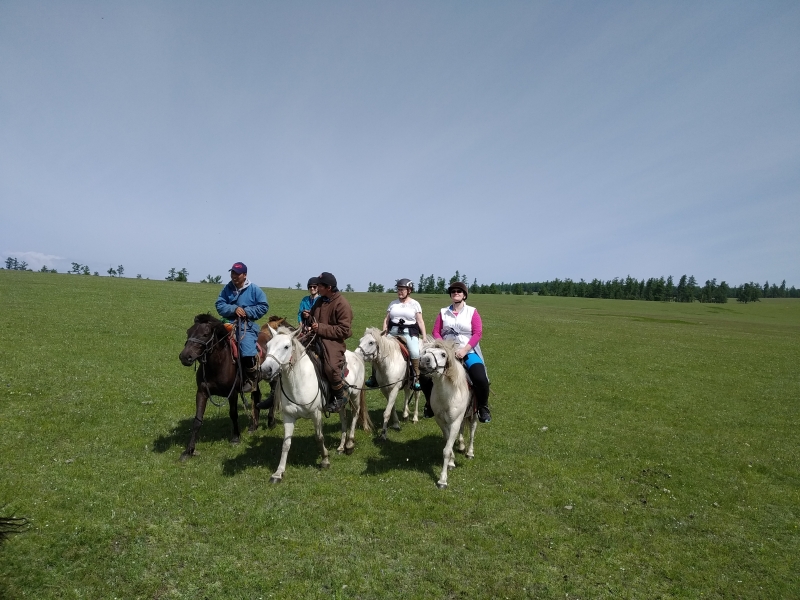 Breakfast
It's time to say goodbye to our welcoming host family.
We head back to the Orkhon Valley leaving Naiman Nuur Park traveling through a steep mountain road thanks to our tough horse and skilled yak guiders.
We set up our camp near the forest which is located in between the Naiman Nuur Park and Orkhon Valley.
Dinner and stay overnight.
Day7: Orkhon Valley Horse Riding Trip reaches Orkhon Falls
Breakfast.

We are now back in the Orkhon Valley.
As we ride through the valley, we will stop at Orkhon Falls.
We set up our camp in the wilderness after the ride.

Dinner and stay overnight.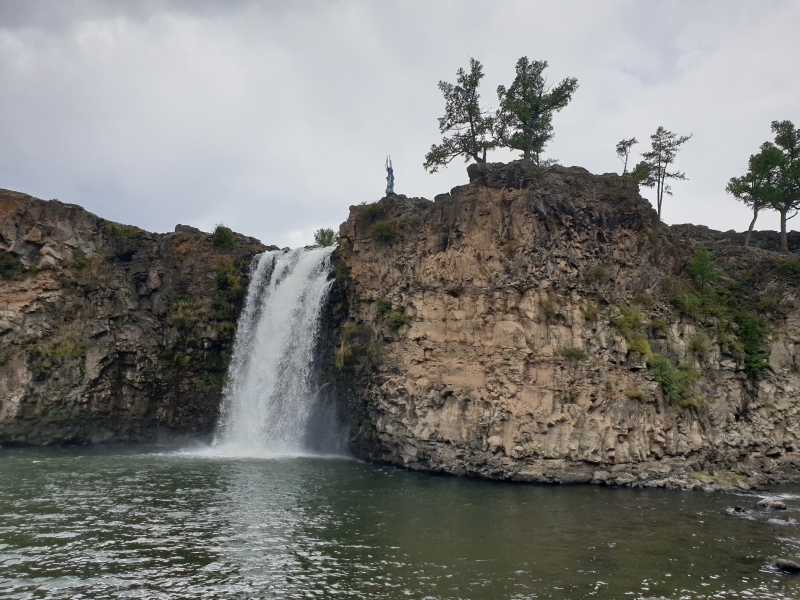 Day8: Orkhon Valley Horse Riding Trip reaches Tovkhon Monastery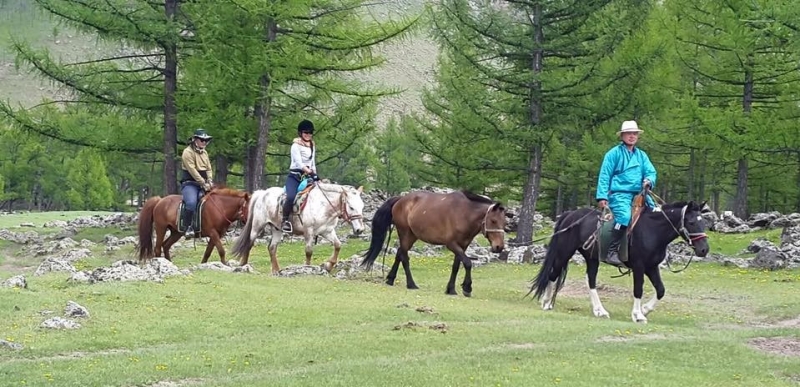 Breakfast and we head to Tovkhon Buddhist Monastery which has about 400 years of history. We reach the monastery with our horses situated at over 2600m above sea level.
Picnic lunch.The views are magical where you can see the enormous valley with forest mountains in the background while riding down the mountains to the Orkhon Valley.
This part of the land is the origin of the nomad life dating back to thousands of years.
We set up our camp in the wilderness after the ride.
Dinner and stay overnight.
Day9: Orkhon Valley Horse Riding Trip
Breakfast and we ride deeper into the Khangai Mountains.
Picnic lunch.
We set up our camp in the wilderness after the ride.
Dinner and stay overnight.
Day10: Orkhon Valley – Kharkhorin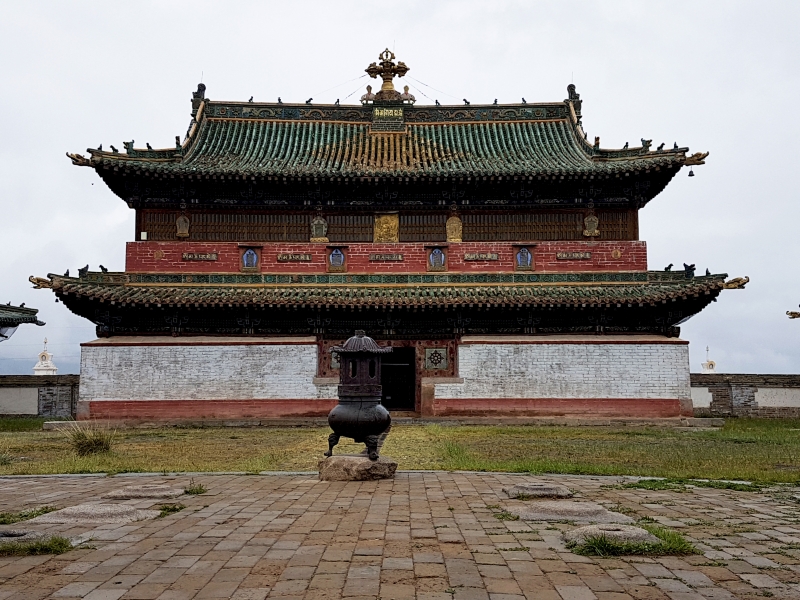 Breakfast and continue our trip on horseback to Kharkhorin, the old capital city of Mongolia.
Picnic lunch en route.
We set up our camp under open sky near Kharkhorin.
We will drive to Erdene Zuu Monastery after we set up our camp.
This is the last day with our horses and equestrian guides.
Dinner and stay overnight.
Day11: Kharkhorin – Ulaanbaatar
Breakfast.
It's time to give your horses and equestrian guides a warm hug and say goodbye.
We leave to Ulaanbaatar early and arrive in the afternoon.
Picnic lunch.
You'll be offered to go shopping (cashmere and souvenir) with a guide for the rest of the afternoon.
We don't include dinner to leave you a wide range of choices of Ulaanbaatar cuisine.
Night at a hotel (2* – twin or triple room).

Day12: Ulaanbaatar
Transfer to the airport after breakfast.
- This ride is open to young riders aged 14+ as long as they are confident riders and accompanied by an adult.
Please Note
The itinerary may be modified at any time for security reasons, meteorological or events beyond our control such as blocked roads, rivers in flood, drought, strikes and local holidays. Equus Journeys, our local partners and their local guides will always strive to find the best solution and will alter the itinerary as needed.
The names of the hotels and accommodation are given for information only and depending on availability, they may be modified without notice and replaced by another of a similar standard.
ADDITIONAL
SMALL GROUP SUPPLEMENT
Groups of 2 or 3 : + 250 € / pers.
A supplement is refunded for all travelers after the 4th traveler is booked.
SINGLE ROOM
+ 80 € / pers. (2 nights in Ulaanbaatar only). This single room supplement applies if you want a single room in Ulaanbaatar.
PRACTICAL INFORMATION
Meeting point: Chinggis Khaan Airport, Ulaanbaatar.
Language: English, French
Group size: 3-10 persons.
ACCOMMODATION
In tents: 6 nights
In a guest yurt with a nomadic family: 3 nights
In a 2* hotel in Ulaanbaatar: 2 nights
INCLUDED
✔ Transfers airport / hotel / airport
✔ English or French speaking guide
✔ 2 nights in 3* hotel in Ulan Bator, breakfast included
✔ Journeys in Japanese 4WD jeep or Russian 4x4 UAZ + driver
✔ Petrol
✔ Full pension during the tour
✔ All breakfast, lunch, and dinner except 1 dinner
✔ Cook for the groups > 4 persons
✔ Equipment for meals (mess tent, camping tables and chairs) and nights (tent, sleeping bag, ground mattress), sanitary tent
✔ Water
✔ Tour and visits
✔ Horse riding
✔ Nomadic equestrian guides
✔ Pack yaks for the equipment during the self-sufficient trek
✔ Entrance fees for parks and museums indicated in the program
✔ Traditional show
NOT INCLUDED
X International flights
X Visa (if necessary)
X Travel insurance
X Repatriation insurance
X Drinks / alcohols extras
X Meals in Ulan Bator
X Phone calls
X Any excursion that is not indicated in the program
TRIP CALENDAR
Choose your departure & Join now
Tour name

code

start

end

day

status

lang-cal

Price
Across the Orkhon Valley

Monday May 04, 2020

Saturday May 16, 2020

12 Days

Bookings open

FR

from

€

Book Now
From our gallery
Come travel with us to experience beautiful Mongolia on horseback, be a part of nomad family and their culture as you enjoy your trip. Your adventure is waiting for you out there in the wild nature of Mongolia.
Let us create your Dream Holiday
Ready to experience in Mongolia at its best? We take the planning off you and hand you the keys to Mongolia. Drop us a line and we'll get back to you with expert, free, input within 24 business hours.